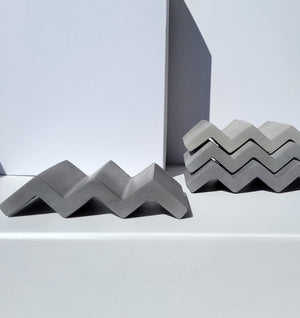 CONCRETE OBJECTS FOR YOUR SPACE
Discover the latest collection of unique and stylish concrete objects, handmade in small batches by HIRMIE in Chicago, Illinois. Elevate and decorate your home and living spaces with these locally-made home decor pieces, perfect for gifting to your loved ones.
Each piece is hand-poured with care, ensuring that no two items are exactly alike. The concrete objects are sealed with a food-safe, water-resistant, and non-toxic carnauba wax beeswax sealant, ensuring their longevity and durability.
Note: Due to the handmade nature of these products, variations in color intensity and distribution may occur. All images should be used as a guide only.
Let your desires turn into concrete action with HIRMIE stunning collection of concrete objects.
CONCRETE OBJECTS FOR YOUR LIVING SPACE
---
Find HIRMIE on Facebook & Instagram @Hirmie.HandmadeCrafts
SHARE. LIKE. REPOST. TAG. COMMENT. EMOJIS
Show your love and support for HIRMIE - a small local business based in Chicago, Illinois. Established in 2020 and constantly evolving with different curated products. 100% handmade in small batches for you - beautiful human!